Let me tell you today How To Increase Instagram Followers 2021 that you should increase the follow-up number of your Instagram account and how you will also become a big Instagram user. At the same time, you will also know that you will be able to increase the followers of your Instagram account very easily.
Let us tell you How To Increase Instagram Followers
1. First of all, you should have an account on Instagram, after that you should be real, I mean to say that your account should be made by email or your mobile number and that account should be verified. Verify does not mean that blue tick means that your account should be connected to your email. Secondly, the first thing is that the account is set up. Secondly, how do you mean that your Instagram account is for business purpose or public figure? First of all, you have to design what your account is meant for.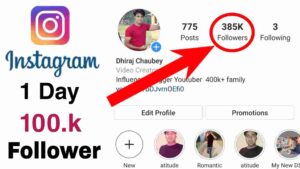 2. Now we will talk about how to write the bio of your Instagram so that your followers will start growing organically and we will also know how to use keywords in your bio so that our Instagram
Followers easily grow organically day by day.
First of all, you tell me that if I am following you on Instagram then why I am doing this question is very important, this question is important because if I am following you on your Instagram, then you must have told me some good things. Or provide some good information on Instagram, so I follow you in the same way any user will see your profile, then they should know from looking at your profile that this statement which you have given in the bio of your profile Based on that you will provide the content on Instagram, so any person will follow you. Therefore, depending on your niche, write in your Instagram profile that on which topic you want to provide information on Instagram, it will benefit you that if a new user sees your profile then in your bio If it is written related to tech, then that new user will understand that this person heads the content related to tech, then if your content likes that person then that person will definitely follow you. Therefore, if you want to increase followers on Instagram, then bio should be well written.
If you want to grow followers on Instagram in real, then on the basis of your Niche, you should design your Bio in a much better way. Whatever content you want to give, related keywords in the Bio of your Instagram profile so that people know Could it be said that this person is providing content on this Patikilar niche. If you adopt this method then you will be able to become a good Instagram user in a few months. This is the perfect way and the perfect way to increase organic followers on Instagram is 100% working tips. Use this tips, you will surely succeed. |
How To Post On Instagram
Now, let's talk about how you post any content on Instagram, what is the right way to post on Instagram. How to post that more and more people reach my post and follow like comments, they will discus about the answers to all such questions, so let's start.
1. First of all, what you are posting should not belong to anyone else. Suppose if you are putting someone else's content in your post, then if someone sees that post then if you are not, then It will be understood like this because the post you have taken is definitely taken from Kahi, so no person will go to that post. Therefore, you should not copyright any similar or content used in your post.
2. Whatever you are posting, whether it is a photo or a video, it should be yours, only then will anyone follow you.
3. Now we will talk about how to use tags and the Algorithm of Instagram Depends on Hastag. If you want to make your Instagram a good level account, then you should know how to use Hastag properly. Only then you can reach your post to as many people as possible.
4. How to post: – First of all, make a post according to your content, ie make a photo, whatever is written in that photo, if there is a post related to Liza Tech, then what will you do when you post the title now You will start writing how Hastag writes, I understand that your post is related to technology, you #Tech #Technology in this way
You can make your Instagram profile a good account by using Hastag.