You must have heard that many people suggest that never use your original email address, use a temporary email ID. Hardly everyone will know what is a temporary Email address? How To Create Fake Gmail Id  and what are its benefits?
Friends, we do not know how many sites we visit, and there we are called to sign up, in such a situation, if we use our original ID, then we get millions of Spam mails . That is why experts always use a fake email id . Now why did I call it fake, why is it used, you have to read this article completely to know it.
Believe it or not , there is no website on the internet that uses your email ID properly, almost all use it to send spam mail.
This is the only way to avoid it.
Let us know further what is this Temporary Email ID, what are its benefits, how to generate Temporary Email ID , stay till the end so that everything is understood well.
What is Temporary Email ID
Temporary Email ID is a kind of self-destructive email id that gets deleted automatically in just a few minutes. It is also called disposable Email id. Inshort you can also call it a Tempmail.
The only purpose to make it is to sign up in an unauthorized website and receive mail, which mostly consists of OTP, confirmation mail.
A Tempmail is used only to receive mail, you cannot send mail in it. If you were thinking about sending mail from it, then you might not like it but believe it there are many more benefits.
Let us know about some of its benefits.
Benefits of using a Temporary Email Address
If there is a temp-mail, it is temporary, but there are such benefits that make it so much more important. I have explained some of its benefits below.
Its biggest advantage is that it takes complete care of your privacy. There is no need of any name or phone number while making it.
Due to limited life line, there is no risk on your security.
The spam mails that come after signing up get rid of them.
You can create as many Email Id as you want.
Instant Email can generate .
how to create fake gmail id
How to generate temporary Email Id 
It is a very easy process, it is a bit difficult to create an account on Gmail , but you can easily create a temp-mail.
There are many websites on the Internet that provide this feature, but not every feature is available in every sites. To make your work easier, I am giving the names of some such websites below.
10 Minute Mail
Air Mail
Mailinator
temp mail
In almost all websites, the process of generating email is the same, so I am going to show you by generating email in a website so that it is easy to understand.
I always use temp-mail . org because it is very easy and feels good to use.
Email generation process is something like this
First you have to click this link , and you will reach its official website. Then you will get to see some such interface.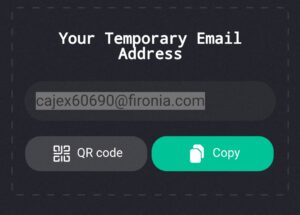 You can see that your temporary email address has already been created just before opening the site, now you copy it and place it where you want to use it.
You can receive mail from any email id on Tempmail like below, I am sending mail to it from my email address right now.

When you scroll down a bit, you will see your inbox of this type. Here you will be able to receive mails.
It is self destructive as I mentioned above, it will be deleted automatically in few minutes.
You can create and use your temp mail on any of the websites mentioned above.
CONCLUSION
Hope you understand what a Temporary Email ID is and what its benefits are . I would advise you that whenever you sign up on a website, use only temporary email there. If there are some questions related to this and you want to know, then you can ask in the comment box below.