With its 1 billion monthly active users, Instagram has become the essential social network for under 35s. As a brand interested in this target, it is therefore essential to be present and to establish its popularity how to get more followers on instagram?
Unfortunately, posting great content isn't enough to get all Instagram to follow you. As with all social networks, you have to put in place a specific strategy that will meet users' expectations.
Here are 15 ways to get more real instagram followers in 2021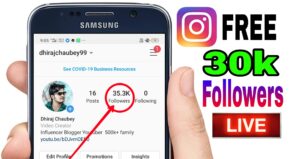 If you want to gain popularity on Instagram , you probably have other social media accounts. Instagram is rarely the entry point for a social marketing strategy .
If you have a Facebook and Twitter account, all you have to do is invite your community to subscribe to your Instagram page. For example, you could create a post that gives an overview of your profile (like a screenshot or a recently published post) with a CTA button that might say
2: Advertise on Instagram
Instagram ads are a great way to gain visibility and engagement. They allow you to reach a target that you will have previously identified, likely to be interested in your products or services.
The tool is precise and really helps target people who might be attracted to a certain type of content, maximizing the chances that they will follow you down the road.
3: create a universe
On Instagram, it's all about appearance. The impression that a user will have the first time they visit your profile is therefore important. This is why you must ensure that your posts reflect a universe specific to your brand.
The most effective strategy is to post the same kind of content with the same composition and the same filters. This helps create a harmonious visual theme that will invite users to follow you.
4: post photos that show behind the scenes
Instagram is a great place to storytell and share something other than photos of your products. It is the ideal place to show your teams, the manufacturing processes, in short to show your values and your DNA.
By posting these kinds of photos, you will create an emotional connection between your brand and the audience. The goal is to show the human touch behind the account.
5: post quotes
They are a good way to engage users easily. They stand out among the photos and are easy to create in Photoshop or Canva .
Of course, the quotes should be able to appeal to your target audience. They should be a reflection of your brand's DNA. Posting content that is of interest to your target is the best way to get them to subscribe to your account.
Discover 18 reasons why your Instagram posts fail .
6: post videos
Instagram's decision to allow one-minute videos gives your business a great opportunity to create engaging videos about your products and business. These can be tutorial videos or videos showing the experience of your most enthusiastic customers.
The advantage of videos is that they are more dynamic than images. They attract the eye of users more. According to Brightcove, social video generates 1,200% more shares than text and images combined.
7: Post Stories
Stories on Instagram were quickly adopted by users and are now part of any successful social media strategy. They keep you up to date with the latest news from your brand and create fun ephemeral content. Stories have a great engaging power.
To encourage people to follow you, you can offer ephemeral discount codes that will only appear in your Stories.
8: Tag influential accounts
One of the strategies to increase the number of followers on Instagram is to tag relevant influencers or accounts in your photos. But it's not about notifying them or drawing their attention to your photo. The goal is for people who follow them to see your photo on their crawl feed, because Instagram's algorithm is more likely to deem your photos to be more relevant to their interests.
Website creation – Custom price estimate
La Fabrique du Net has developed a recommendation engine that allows you to obtain a free detailed price estimate as well as a selection of software and service providers adapted to your website creation needs.
Web project creation
100% free
9: Publish Your Customers' Content
One of the big trends that has emerged with the advent of social media is the generation of content from fans and followers. This type of content is interesting because it showcases your brand. Users share their experiences through photos.
Posting their content to your account shows you are close to them. It can make other people want to be featured as well.
10: Respond to comments
Instagram is not a traditional advertising platform. It encourages brands to create a relationship with customers. That's why it's important to answer questions or requests, especially when they show an interest in your brand.
By being nice, it gives a good image and you are more likely to gain a follower. Don't forget to mention the person (@personname) to reply to him so that he sees your reply.
11: work with influencers
This strategy has proven itself on Instagram and has since spread to other platforms like Snapchat. Concretely, your company connects to an Instagram influencer who is recognized in your sector. For example, if you want to promote your sportswear, you can partner with a fitness expert or a vlogger.
The content can be published on your own account or on that of the instagramer depending on the specifications.
By establishing this kind of partnership, you will gain visibility with the influencer community. You will also post more diverse content, which will showcase you.
12: don't forget the hashtag
If there is a social network on which you should not forget to add hashtags, it is Instagram. Like on Twitter, they allow you to tag your content with several words associated with the photo. This makes it easier to find your account when someone is searching. Of course, the more hashtags you put, the more likely you are to appear in the results. But don't overdo it: putting the hashtag #cat on a photo of shoes doesn't make sense and could actually do you a disservice.
The most effective hashtags are those that represent the spirit of your brand and those that are specific. The more specific you are, the more visible you will be when someone searches for that keyword.
13: plan your posts
It's almost impossible to post on Instagram all the time. It takes time and you probably have other tasks to do in parallel. That's why scheduling posts up to weeks in advance doesn't disrupt your Instagram presence. Especially when you know that Instagram's algorithm favors accounts that post regularly.
Tools like Later or Buffer allow you to organize and schedule your posts.
14: Monitor Your Stats
To monitor your growth on Instagram more closely, you have to think about investing in an analytics tool, like Iconosquare or Crowdfire . This gives you information about who you follow, who is following you, and who you need to follow.
They also allow you to compare you with your competitors and to see the evolution of the number of subscribers according to the campaigns carried out. Statistics are essential to take a step back.
15: organize contests
Running a contest on Instagram is not only a great way to increase subscriber numbers, it's also one of the only ways to get really interesting information.
You can ask the participant to follow your account, but also to invite other people to follow him. You can also ask the participant to fill out a form. This is where it gets interesting because then you will be able to retrieve names and email addresses.